A Mini Book Review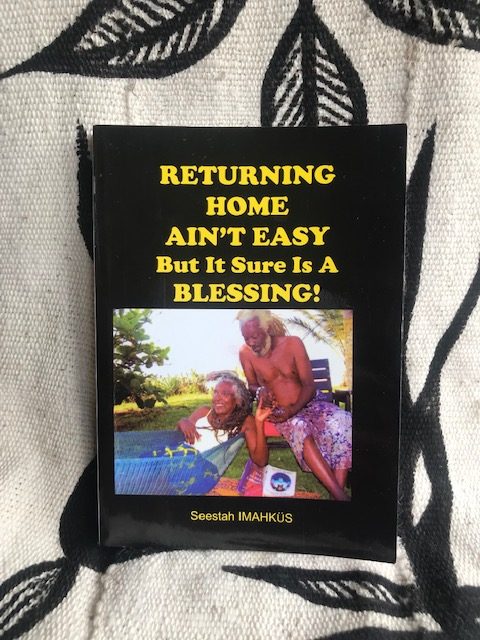 Returning Home Ain't Easy if it means picking yourself up and moving to a different country, but yes it can be a blessing. That's for sure!
When many African-Americans and other People of African Descent living in the Diaspora visit Ghana, one place they are sure to visit is a place called, One Africa Health Resort located in Elmina. Situated close to the Elmina and Cape Coast Slave Castles and Dungeons, the resort has became an iconic pilgrimage spot for visitors eager to reconnect to their African roots.
One Africa Health Resort
One Africa Health Resort is also the home and brainchild of the author, Seestah Imahkus (and her late husband).
One visit to the Cape Coast Slave Castle dungeons was all it took. After an emotional and gut-wrenching experience, as she states in the book's introduction, "I would never be the same again! After years of wandering and searching, I have finally found home."
But, saying it and actually making the move did not happen overnight. They needed to plan and prepare, and so between 1987 and 1990, Seestah Imahkus and her husband made several trips to Ghana.
In 1990, despite objections from friends and family, especially on the part of her mother, they made the move.
Reality sets in
And then reality set in. Visiting a country and living in it are two different things. In this memoir, Seestah Imahkus chronicles her experiences over the course of twenty one years of living in Ghana. There are the good times and the challenging times as she and her husband and other friends and returnees adjust to their ancestral African homeland.
She discusses how she learned to be careful not to trust everyone after being taken advantage of by a friend and swindled out of money. Lacing factual information about some of Ghana's history, culture and traditions, Imahkus addresses the challenges of language barriers, and being viewed as foreigner and called obroni (white person), which she found to be particularly disturbing. But most of all, the book speaks to the joy she has always felt at being home in Motherland, Africa and learning about, and being among her new home and people.
Today, global celebrities are among the many visitors to the iconic One Africa Health Resort in Elmina. In addition to hosting enlightening Rites of Passage ceremonies, and conducting somber Castle/Dungeon pilgrimages, One Africa is the site of weddings, meetings, burial of ashes and and a lot more. It also boasts an oceanside restaurant.
Stop by some time. If you're lucky, you may get to visit with Seestah Imahkus herself.
So here is the takeaway
I highly recommend Returning Home Ain't Easy But It Sure Is A Blessing! for the following reasons:
If you you are thinking about relocating or repatriating to a country in Africa, this book gives detailed insight as to what to expect.
It is as relevant today as the day it was published (1999 and revised in 2009). It's worth keeping on hand as a reference guide.
It provides Ghanaians with a greater understanding of African-Americans and why they are choosing to return to Africa, specifically, Ghana.
And finally, Seestah Imahkus writes in way that is so relatable, conversational; funny at times, and other times, angry and feisty.
You can purchase a copy of this book at Amazon.com and other online retailers. Happy reading!