The 100% African Natural Soap that works wonders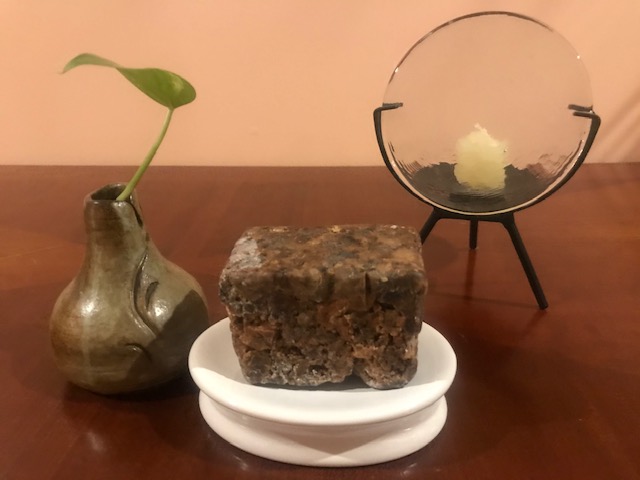 I'm a big fan of African Black Soap.
Interestingly, despite its name, this soap is not always black. It's often a marbled black, brown and golden color.
African black soap is my favorite and here's why. It is completely 100% natural, organic, and has just a few ingredients. As far as I am concerned, the fewer the ingredients in anything that I put on my skin, especially my face, the better.
Yoruba Origins
As the name implies, this soap is a product of Africa, which originated hundreds of years ago among the Yoruba of present day Nigeria, and then spread throughout West Africa from there.
It is no surprise that there are regional variations in the soap's appearance because of the different methods of processing, as well as the fact that all the ingredients are 100% natural plant products, and nature always has slight differences.
Plant-based healing
For centuries Africans used plants to stay healthy or to treat ailments. However, with the coming of missionaries and colonialism, we began to abandon African traditional methods and treatments in favor of those of the Europeans.
Africans bought into the European belief that the African way was primitive, and the European way was better, more civilized.
Today, we know that the properties of our centuries old soaps, lotions and a host of other plant-based products, are in fact, superior to many western products that include chemicals, fragrances and refining processes that have virtually stripped out most of the natural benefits of the plants in exchange for convenience and profit.
Why I like African Soap
Luxurious lather
Gentle on my skin
Leaves my skin feeling clean, soft and supple
All natural ingredients/no added chemicals
Great for my skin, including my face
The ingredients
The ingredients vary depending on where and how the soap is produced, but for the most part, the primary ingredients include:
Plantain skin (powder/ash)
Cocoa pod (powder/ash)
Palm kernel oil
Coconut oil
Water
The benefits
Reduces dry skin
Clears rashes
Alleviates skin irritations such as razor bumps
Relieves symptoms of eczema
As with all soaps and other skin care products, use African Black Soap on a small area of your skin, or on your hands first before using it on your face and the rest of your body.
So why not give African Black Soap a try? You may come to love it as much as I do!